Round 24 reached it's conclusion on Monday evening with the rarity of two Challenge League matches on the bill. This scenario came around after the original Winterthur vs. Neuchatel match scheduled for Friday was moved back given the weather conditions in Switzerland. A safety measure if you will, to make sure the game went ahead as planned following a spate of postponements in recent weeks that see teams in both leagues having played a different number of games than the others.
FC Basel have probably been hit hardest after two postponements in a row and are now way behind in the title race, even further than before. Elsewhere, the race for Europe intensified while the battle at the bottom in the Super League stays pretty close. Here are the talking points from the latest round of action.
---
AIN'T NO STOPPIN' YB
In recent years, FC Basel have been described as a juggernaut in Swiss football. They may be slow getting off the tracks sometimes but when they do, it is full steam ahead. They wipe out and wipe the floor with all before them and proceed with very little issue to claim Switzerland's football crown. This year though, that isn't the case. Young Boys haven't just slowed FC Basel down, they've pushed them right from the tracks and taken their place. This is a yellow and black juggernaut making it's way directly to it's final destination of a first Swiss championship since 1988.
It isn't over, no, but this YB side show absolutely no signs of slowing down. They smell blood in the water and are possessed, crazed and most importantly focused on claiming the Super League title and they aren't about to let anyone stop them. A potentially tricky test at stubborn Lugano awaited them in Round 24. A home side which had claimed a win at St. Jakob-Park in Round 20 and that had again showed those defensive capabilities in the two home games that followed with 1-0 victories in both.
Young Boys didn't make the trip to Via Trevano to care about statistics. They came to win and increase their stranglehold on top spot. A touch of good fortune that they hardly needed befell them on Saturday evening with the power failure at St. Jakob-Park allowing the leaders to move fourteen points clear at the top. It can still be reduced to eight points when FCB play their games in hand but psychologically, it is a massive advantage.
Perhaps this game was the best indicator of just what is different at YB this season. Mattia Bottani's early strike on the fifth minute was cancelled out just five minutes later by Nsame. Assale struck on the thirtieth minute and the previously strong Lugano defence crumbled again with twenty minutes to play when Schick added the third. Marc Janko did his best to let his old club with a goal with four minutes to play and while YB's defensive fragility has been there for all to see in recent weeks, they simply just score more goals than anyone else. They didn't need the breathing space in the end but it was certainly welcome with Leonardo Bertone having the final say at the Cornaredo.
Can they be stopped? It seems unlikely. FCB need to improve massively, no more silly dropped points, and very little, if any, mishaps before the end of the season. It is pressure on for FCB in a way they haven't experienced in many years. YB have to travel to Zurich just before Basel come to the Stade de Suisse in early April, that could be the opening that Basel need but nothing suggests YB are about to open the door for Basel between now and May.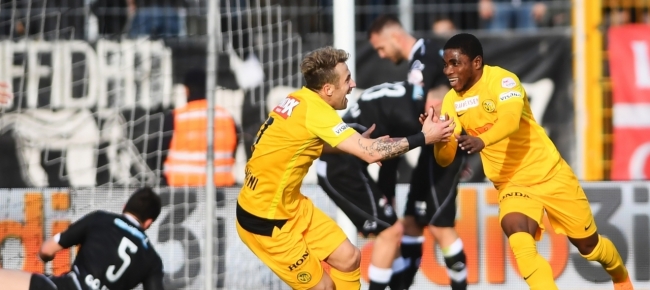 Young Boys ran out 4-2 winners at the Cornaredo
---
MARCH MADNESS…
Well, the decision by the Swiss Football League to move Winterthur vs. Neuchatel to Monday evening may have forced fans of both clubs to wait an extra couple of days to see their teams in action again, but it was certainly worth the wait. Eight goals, four a-piece in a thrilling game at the Schutzenwiese. The highest scoring game that old stadium has seen for almost nine years. In the end, it proved to be a good point for the league leaders as they just fell short of claiming the comeback of the season.
Normally a result like that against a side that has won only once at home all season would prove damaging but such is the lead that Xamax have built up, they need not worry or look over their shoulders. It helped of course that Servette missed perhaps their last chance to really close the gap with a defeat in Liechtenstein. It leaves the Genevan side twelve points behind and on a night that Neuchatel lost some traction, they ended up better off in their quest to claim the title.
It seems inevitable now that Neuchatel will return to the Super League. It has been a difficult period for the club since 2012 but promotion would bring an end to their journey. Make no mistake, these are really promising times for Neuchatel and glory is well within their reach now.

Quite the thriller was served up in Winterthur on Monday
---
LIGHTS OUT BASEL…
FCB haven't helped themselves recently with some poor results but fate hasn't been too kind to them either with two league postponements in a row. Their fixture away to Lausanne last weekend, like many in Switzerland, fell foul to the weather and then when they were almost certain to get back to action in the hotly-anticipated contest with FC Zurich, the lights went out at St. Jakob-Park. That sort of thing doesn't happen often but it sure picked a bad time to happen. Despite several delays, the decision was made to postpone the game.
Basel have two games in hand but as mentioned, they now sit fourteen points behind Young Boys. Basel now face four games in eleven days starting with the second leg of their Champions League tie with Manchester City on Wednesday. That is quickly followed up by a weekend trip to Luzern before the first of those games in hand at Lausanne. The run is finished at home to Sion.
The international break then follows allowing Basel a break before the huge match with Young Boys at the Stade de Suisse in early April. You have to feel that Basel need to claim nine points from nine and hope YB have slipped up to really make a serious challenge for the title. These are now the most crucial weeks of the season for FCB and they can't afford any more frozen pitches or power failures either.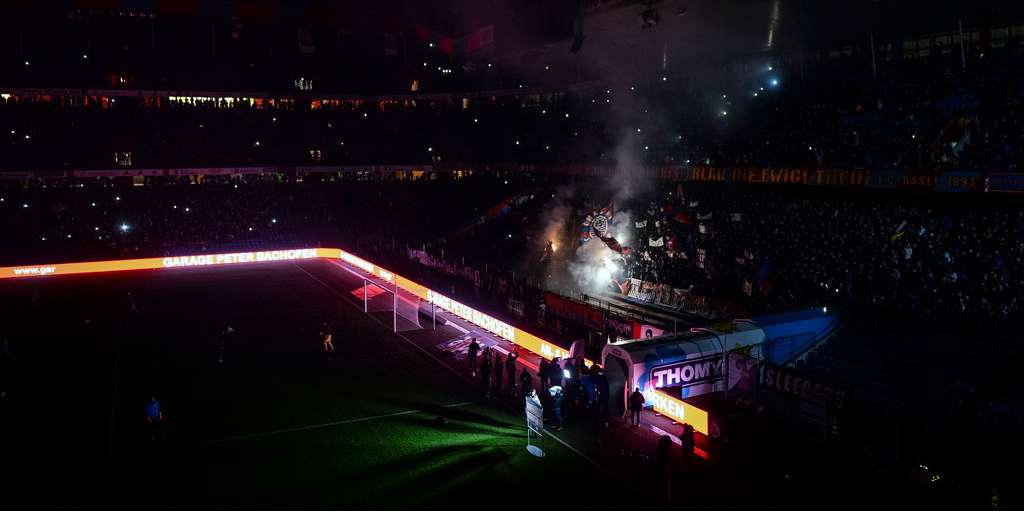 It prevented the match from taking place but the power failure created some pretty pictures in Basel
---
EUROPEAN RACE HOTS UP
That power failure in Basel didn't help FC Zurich much either. They remain in fourth and thankfully for them, three of the sides around them failed to capitalize with Grasshoppers and Luzern only managing draws while Lugano lost at home. It leaves Zurich one point ahead of them all and with the chance to pull away with their game in hand. Normally a game away at Basel would make that difficult but given current form for FCB, Zurich may fancy their chances.
St. Gallen were the only side to really benefit in Round 24. They are riding the crest of a wave after their 2-0 victory in Basel and after their 3-0 victory over Lugano last weekend, they impressively won at the Stockhorn Arena on Sunday to put themselves three points ahead of Zurich and five ahead of the rest. There are still many games to be played but FCSG have put themselves in a good place and look a good bet for Europe after five years away.
As for the rest, all is not lost. Grasshoppers and Luzern have hardly been consistent but remain well in the race while Lugano have suffered two defeats in a row but have shown enough to suggest they may well participate in Europe for a second season in a row. It is arguably the most exciting and closest race in the league and there will be several twists and turns before Switzerland's representatives in the Europa League are decided for next season.

St. Gallen moved into pole position for Europe after their win at Thun
---
SION ON THE UP
One win and a draw might not be the best indication of good form but for Sion, it is a huge upturn in fortunes. Having picked up just three points in eleven games, their return of four points from their last three games is a welcome boost for the club rooted at the bottom. Their defeat to Young Boys was expected but victory over Lausanne and a home draw with Luzern coupled with Thun's defeat at St. Gallen mean Sion are just three points behind at the bottom when not so long ago, it seemed they may be cut adrift at the bottom.
The club needs to preserve it's Super League status and it is looking much more likely now. It will be a close affair with Thun and Lausanne being the only other candidates for the drop. Sion face Thun on Sunday in a match which has gained massive importance. A victory for Thun may spell the end for Sion even at this stage of the season. Sion follow up that match with games vs. Basel and Zurich so victory really is imperative.
Lausanne, five points ahead as it stands, are in the best position. They may not have won in their last four and worryingly, one of those games saw defeat to Sion, but they should have enough to keep distance. LS must take advantage of the fact that four of their next five Super League games take place at home.

Sion shared the spoils but their form is improving
---